FALLING WALLS SCIENCE SUMMIT 2013 – 2019, 2021
Falling Walls Foundation gGmbH | Format: hybrid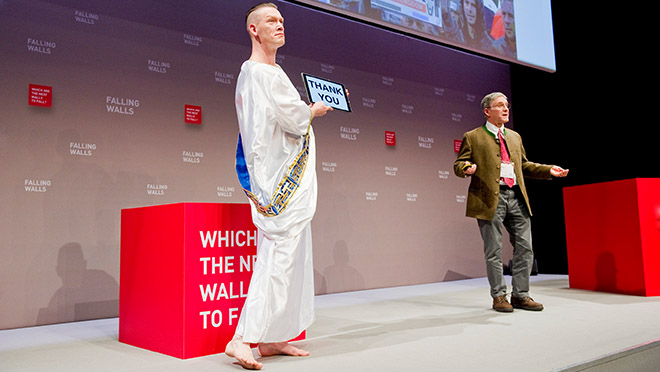 Fotos: Florian Gaertner / Photothek, Ralf Rühmeier, Benjamin Pritzkuleit, Dirk Michael Deckbar, Thomas Koehler / Photothek
Since 2009, leading scientists have been presenting their latest breakthroughs in the natural sciences, humanities, life sciences, business and technology at Radialsystem Berlin on November 9. The goal of the FALLING WALLS SCIENCE SUMMIT is to highlight solutions to global challenges: "Which are the next walls to fall?" Overcoming boundaries is reflected in unusual formats. In addition to the Conference, these include Welcome Reception, Circle, Engage, Lab, Venture and Festive Dinner. Forum Stages take place during breaks, allowing four discussions simultaneously without acoustic interference. In 2015, the Brain Dating Lounge was added as an on-site matching platform.
In 2021, the Summit was held as a hybrid conference with guests on-site.
Wilde Beissel von Schmidt has been managing the conference and all its side events since 2013.
FALLING WALLS SCIENCE SUMMIT